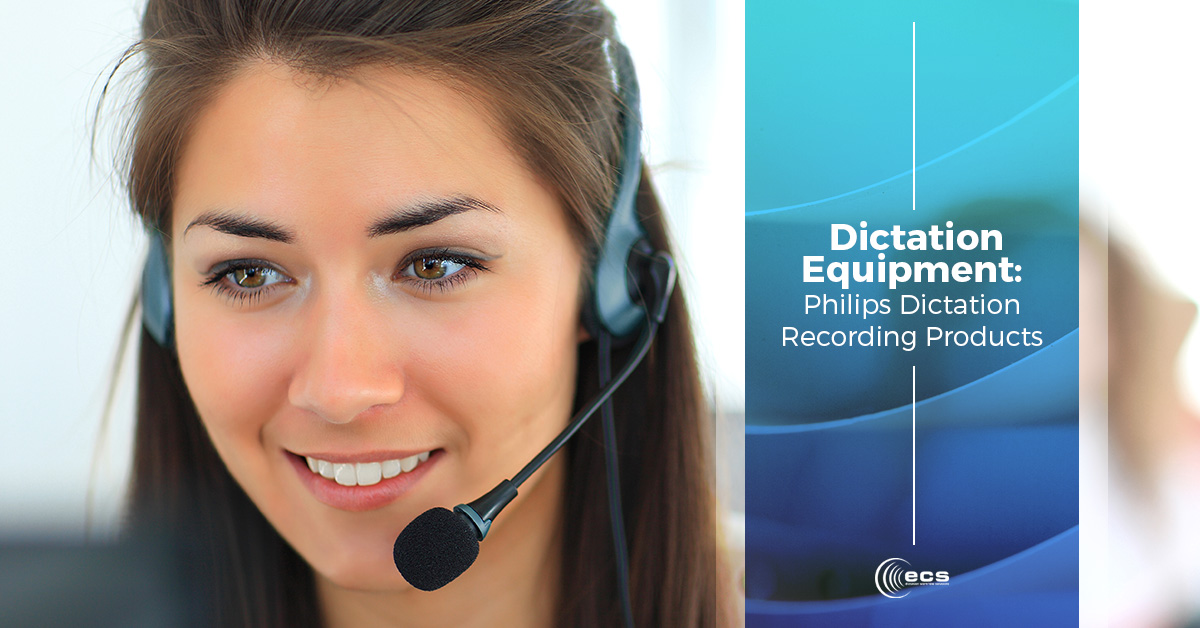 Dictation, the act of speaking something that will be written down or recorded, is a powerful tool used in a variety of environments that requires quality equipment. There are many types of professions that incorporate dictation work, including the medical profession and journalism. Whether you're doctor who documents important patient notes through speech and has a medical assistant transcribe the recording, or you're a journalist who records interviews for articles and stories, having the correct dictation equipment is critical for the success of your professional note taking and job performance.
From dictation recorders to dictation foot pedals to dictation software, Executive Communication Systems has all the dictation equipment you need to perform your job well in order to get quality results. Not only that, but we offer digital dictation and transcription products from brands like Philips, Olympus, Kinesis, and Nuance — just to name a few. If you are just beginning your career in a profession that utilizes dictation, or you are needing to upgrade your digital equipment to take your workflow to the next level, ECS can help you out.
Today we are going to be listing out three pieces of dictation equipment from Philips that are available at ECS: a portable recorder, a conference room recording system, and a dictation microphone. Read along to find out more about how Philips dictation equipment can benefit your work, and be sure to shop our selection of transcription and dictation technologies today.

If you're on the hunt for a lightweight mobile dictation recorder, this Pocket Memo from Philips is the crowned jewel. With the 3D microphone system with a 360 degree sound pick up feature, you'll be experiencing high-quality audio that will only make transcribing your notes that much easier. There is a built-in motion sensor that will adjust the microphone depending the situation you are in, and will turn standby mode on automatically when it is idle. The versatility in its recording abilities makes the Philips Pocket Memo such a high quality piece of dictation equipment. Whether you're recording a meeting in a conference room at work, or sent out to write a story and interview people on the streets, this portable dictation recorder has you covered.
Ensure the sound quality of a conference meeting when you record it with this Philips Conference Recording System. Including a SpeechExec workflow software that allows for quick transcription and document creation, this recording system will increase the efficiency of your workflow, ultimately helping you get your work done well. The 360 degree sound pick-up feature captures audio from everyone sitting around the table, and the built-in cable storage allows you adjust the length of cables so your space doesn't become cluttered with wires. There's no need to be frustrated with poor audio quality any longer. Shop the Philips Digital Meeting Conference Recording System today.
With a built-in noise reduction feature, the days of being frustrated with poor sound quality and background noise are over with this Philips SpeechMike dictation microphone. This dictation product is revolutionary — it has the first motion sensor incorporated into it, and also features a antimicrobial surface. If you need to do a quick playback of your dictation recording, you can easily do so with the large speaker that allows for clear, quality audio playback. Not only is the technology on this microphone incredible, but the product is comfortable to hold — the ergonomic shape lets it sit right in your hand. With a firm yet comfortable grip, you'll be able to record dictation efficiently while ensuring that quality audio is your result. Not only that, but the barcode reading feature on this dictation microphone will help you link your patient or client's data to their recorded audio file. With the use of this Philips SpeechMike dictation microphone, you are enhancing your workflow and increasing your efficiency. And who doesn't want to benefit from that?

These three Philips products, plus so much more, are available at Executive Communication Systems. No matter your profession, if you work with dictation or transcribing, these products will take your work efficiency to the next level. Just imagine the work you can complete when you invest in high-quality transcription and dictation equipment. Shop our selection of Philips dictation microphones, recorders, and software at ECS today.