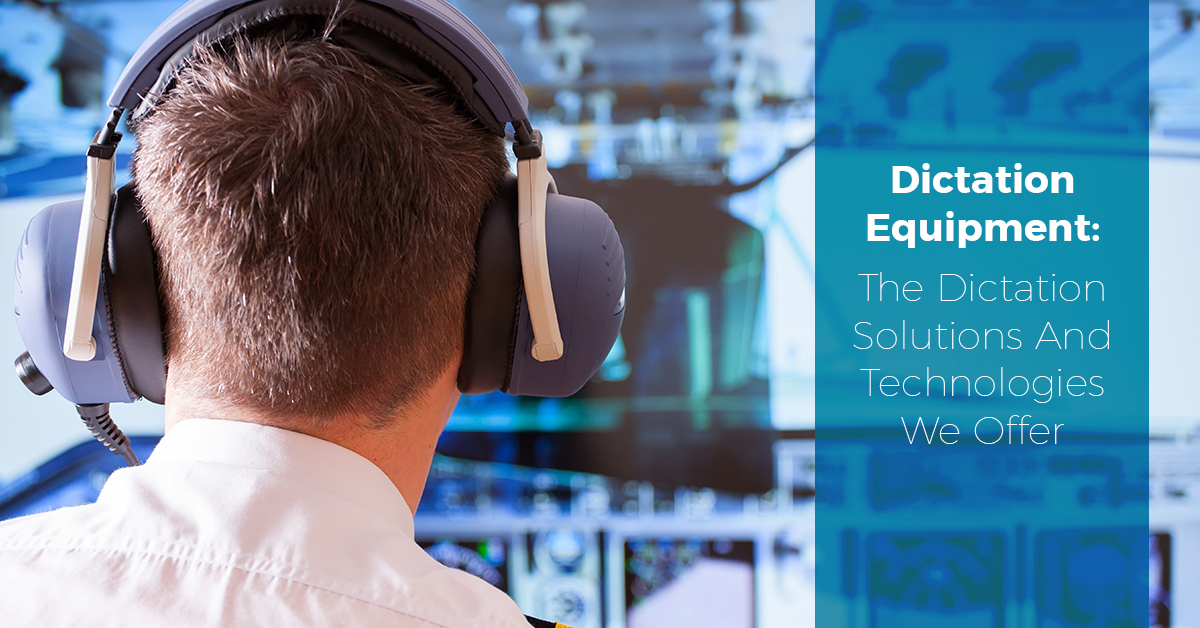 Let's start with what dictation is. Dictation is the act of saying words out loud, with the intention of typing out, writing down, or recording it. This is a powerful, effective tool that can be used in a variety of different work environments and jobs, like doctor's offices, newsrooms, and law offices, among many more. In positions where you need to somehow record verbiage or general notes, dictation comes in handy. By utilizing dictation in your work, you can increase the efficiency of your workflow and maintain your quality and consistency, no matter what you are working on.
Along with utilizing dictation as a work tool, you have to keep in mind dictation equipment. Investing in quality equipment is only going to better the outcome of your dictation. Whether it's dictation application, recorders, microphones, foot pedals, headsets, and even mobile dictation gear if you have to work out of the office, the quality of your dictation work will increase if you choose to invest in well-made dictation technologies. With high-quality dictation gear, the process of actually dictating will increase, your efficiency at work will skyrocket, and you'll be able to focus on the task at hand, rather than worrying about if your equipment is charged or even working.

Here at Executive Communication Systems, we specialize in transcription and dictation tools, software, and equipment. We know that your job, whatever it may be, can be challenging enough as it is, and the last thing you should be worrying about is improper, poor quality equipment for your dictation work. That is why we offer the highest quality dictation equipment that will exceed all your expectations, and help you experience an efficient workflow like never before. Continue reading to learn more about the dictation equipment and technologies that we offer at Executive Communications Systems. If you're in need of new or better dictation gear, be sure to shop our selection of microphones, recorders, foot pedals, and even mobile dictation software.
Take a look at your current dictation recorder. Is it working for you? Do you think it could be performing its functions better? If you can't rely on your recorder to perform its basic functions, it's time to shop for a new one. You're going to want a recorder that makes dictation easy and simple. Perhaps a hands-free recorder? A noise canceling dictation microphone? You'll also want it to be able to let you review the dictations as you go, and make corrections as efficiently as possible. Not only that, but you want your microphone or recorder to be able to move around dictation audio files around fairly quickly, so that whoever is going to be transcribing the dictation for you can get their job done as fast as possible, whether that be yourself or someone working for you.
If you're on the hunt for a fresh dictation microphone or recorder, be sure to shop our selection at ECS.
Perhaps you are a journalist or news reporter, and need to have dictation equipment ready and with you at all times. Who knows who you will need to interview, or if you will have a lot of time to set up and prepare your equipment? This is where mobile dictation plays a huge role. Rather than having to carry around microphones and recorders, not to mention their chargers, you can simply download dictation software on your iPhone or other smartphone. Now, your equipment is on hand — literally. Whip out your phone in seconds and be prepared to record dictation without having to worry about setup or uncharged equipment.
Mobile dictation convenients not only news reporters, but doctors, lawyers, and many other professionals who rely on dictation for a large part of their notetaking. Ultimately, you'll save time, meaning you can spend more energy focusing on the task at hand.
Shop our selection of mobile dictation at ECS today.
The best thing about dictation foot pedals? They're hands free. Foot pedals are often used in the medical profession, allowing a doctor or nurse to playback, fast forward, or slow down dictation simply with their toes. However, any person who incorporates dictation into their work will benefit from a foot pedal during the transcription process. After recording audio through a dictation microphone, recorder, or even mobile dictation, you'll need to transcribe the files. You connect the foot pedal to the recording device. You'll then be able to control the audio with a simple tap of your foot. Here at ECS, we offer a wide selection of dictation foot pedals. Whether you need a three or four pedal device, we have what you need to succeed. Turn your audio dictation into readable notes on a computer with a dictation foot pedal.
Shop our foot pedals today.
Mobile dictation software for smartphones, dictation recorders and microphones, and foot pedals. We have the dictation solutions you are looking for at Executive Communication Systems. Don't settle for anything less than quality technologies for your dictation and transcription work. Shop our products today.