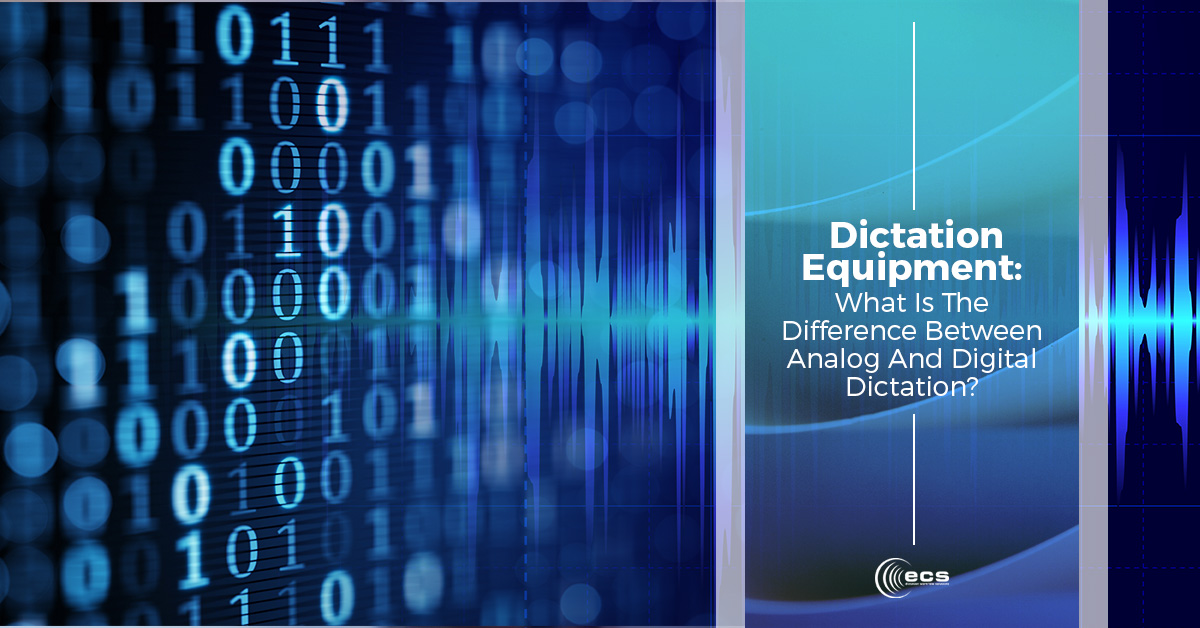 Nowadays, it's easy to assume that all dictation equipment is digital. We live in a digital world with new technologies being introduced and/or updated almost daily. In the world of dictation and transcription, digital technologies are also fairly new.
If you're confused and wondering what dictation equipment is like if it weren't digital, you've come to the right place. Today we're going to be discussing the difference between digital dictation and analog dictation, which is the dictation equipment pre-digital times.
That being said, it's important to note that analog dictation recorders and cassette tapes are still being used in a variety of professional landscapes. Executive Communication Systems continues to offer and sell analog dictation products and cassette tapes.
Digital equipment is also offered, and in many ways, increases the workflow, efficiency, and productivity of many professionals in more ways than analog. Continue reading along to learn more about the two types of dictation technologies, and the benefits that digital dictation provide that go beyond those of analog. And no matter what your preference — digital or analog — we have the transcription and dictation solutions you are looking for.
Digital Dictation Equipment
Digital dictation equipment includes portable microphones to record and store audio files. The files of the recording can be transferred to an external hard drive for backup purposes.
Analog Dictation Equipment
Analog dictation products use cassette tapes to record and store audio files. There are generally built-in speakers, and functions can be controlled on an external microphone.

While it is hard to say goodbye of the technologies of the past, digital dictation is here and it is here to stay. Many are clinging to analog still, and while that's understandable, it's important to understand the benefits that come with going digital.
Security
Cassette tapes are more insecure that digital files are, and that's just a fact. This is important when it comes to recording audio in the law enforcement, law, and medical professions, where information needs to remain secure. With analog dictation, there's no way to secure the files, meaning that they aren't HIPAA compliant. With digital dictation devices, audio files can be secure with a PIN number. Not only that, but the data can be encrypted. And when you have to send audio files out, you can simply send them through a secure FTP instead of handing a cassette tape to someone to deliver.
Data Protection
Digital dictation involves data protection. If a cassette tape is lost, then it is lost forever. Digital dictation technologies usually implement a backup solution in case an audio recording was lost and you need to retrieve it from a separate location like a server or external drive.
Sound Quality
Analog dictation cannot offer the type of sound quality that digital dictation solutions can. The quality of audio on cassette tapes changes over time, and the older it is, the harder it is to hear. With the sound quality of digital dictation equipment, there will be few errors from not hearing correctly. Not only that, but the efficiency of work increases, allowing the transcriber to work quickly and thoroughly in a shorter amount of time.
Despite the vast differences between analog and digital dictation, it's important to note that the price between the two options are not that different. In fact, in some cases digital equipment is a little cheaper.
As you can see, there is a big difference between analog and digital dictation technologies. If you are interested in either option, Executive Communication Systems has the products you need. Whether you need a new digital portable recorder, or a new pack of cassette tapes, you can find the dictation equipment right for you here. Shop with us today.