ECS-DRAGON-FP-4B Four Button Hands Free Foot Pedal for Dragon®
SKU:

ECS-DRAGON-FP-4B

UPC:

852466007372

MPN:

ECS-DRAGON-FP-4B

Warranty:

90 Day Mail In Parts/Labor Warranty
ECS-DRAGON-FP-4B Four Button Hands Free USB Foot Pedal for used with Dragon® Speech Recognition Software Dictate Applications
The ECS-DRAGON-FP-4B offers full dictation control for simplified operation.
USB connectivity for easy plug-and-play installation without the need for drivers
This foot control It is durable and comfortable, it will provide years of use, while controlling recording or any other Dragon functions you chose all 100% hands free.
There is no need to install or run any software in the background, This frees up systems resources and speeds up Dragon NaturallySpeaking, making the whole system respond faster. You don't need to wait for Dragon to react on microphone ON and OFF commands.
Description
The ECS-DRAGON-FP-4B Four Button is a very high quality foot pedal - designed for the professional hands free dictation- and with a unique feature for dictate convenient with speech recognition software and particularly well suited for use with Dragon NaturallySpeaking.
The ECS-DRAGON-FP-4B offers simplified three-foot, control operation for dictating, making easy speech recognition generated documentation. This pedal integrates with Dragon NaturallySpeaking Medical, Legal and Professional.
As default the dictation foot pedal is program as follow:
First button from Right to Left
Dictate Button:
Press and hold to start recording

Release to stop recording
Second button from Right to Left
Tab forward Button:
Press and release to Tab forward
Third button from Right to Left
Mark backwards Button:
Press and hold to start Mark backwards

Release to stop Mark backwards
Fourth button from Right to Left
Transfer Text Button:
Press and release to transfer text from the Dragon Dictation Box to unsupported application
You can change and select the position or your most need it functions using the down-arrows area above. We will send the pedal already program for you, making this pedal just plug and Play no program need it on you side.
.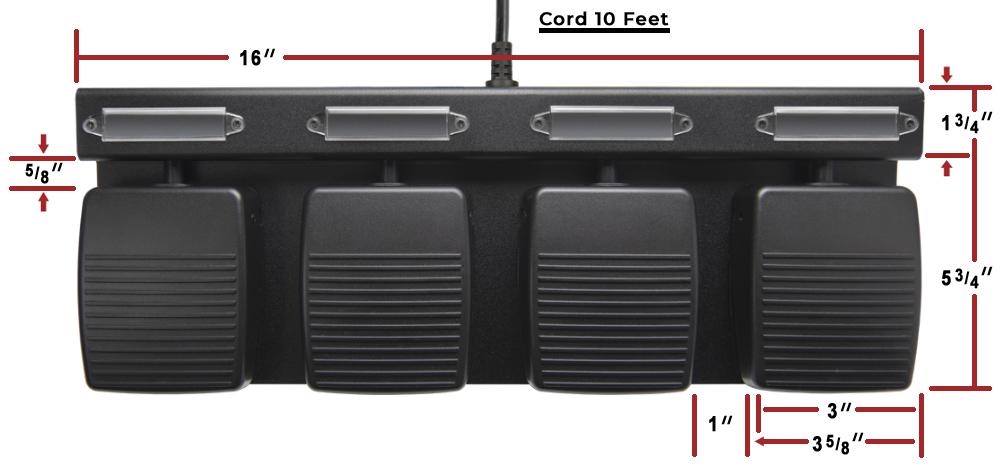 Features
Easy and efficient recording control for faster and more accurate dictations

| | |
| --- | --- |
| | Dictate, Tab Forward, Marc Backwards and Transfer Text functions are as default but you can choose the program on each foot pedal according to your needs prior to order see optional functions above the Add To Cart button. with only a slight movement of your foot, keeping your hands free. |
Compatible with Dragon® Speech Recognition Software Dictate Applications

| | |
| --- | --- |
| A great solution for speech recognition, microscope operation, pathology, radiology or any other application requiring hands free dictation functionality. | |
Commercial strength design for comfortable use even over longer time periods
| | |
| --- | --- |
| | The foot pedal is design for years of daily use to ensure a perfectly smooth dictation process with minimal physical strain. |
Optional hands free foot pedal with LED lights for easy to find in darker rooms such as radiology
| | |
| --- | --- |
| If you are working in a dark room we offer the ECS-DRAGON-FP-4B-LED foot pedal option to order just check the box above Add To Cart before your purchase. | |
Direct connect 2.0 USB plug with no drivers required
| | |
| --- | --- |
| | There is no software driver or external power adapter needed and it connects in seconds. Just plug your ECS-DRAGON-FP-4B hands free dictation foot pedal into a free USB port on your PC. |
Compatibility
Compatible with ALL versions of the following Nuance products:
Nuance® Dragon® NaturallySpeaking

Nuance® Dragon® Professional

Nuance® Dragon® Legal

Nuance® Dragon® Medical Practice Edition
PC Requirements
To use this USB foot pedal you must have a Dragon® Speech Recognition Software Dictate Applications, Not included.
If you already have the Dictation software (check Compatibility tab) then this is the dictation foot pedal that you need.
If you have any questions about this USB foot control please call us at (800) 644-9525. Let's make sure you get what you need correctly the first time. We'll be happy to assist you.
The USB foot pedal is fully compatible with all Microsoft Windows Versions & Apple Macintosh.
No drivers needed!
Dimensions
Product dimensions (W × D × H): 12 × 7.5 × 1.5
Package Contents:
Downloads
Foot Pedal Installation User Guide Instructions
Videos
90 Day Mail In Parts/Labor Warranty
Categories this product is listed in: