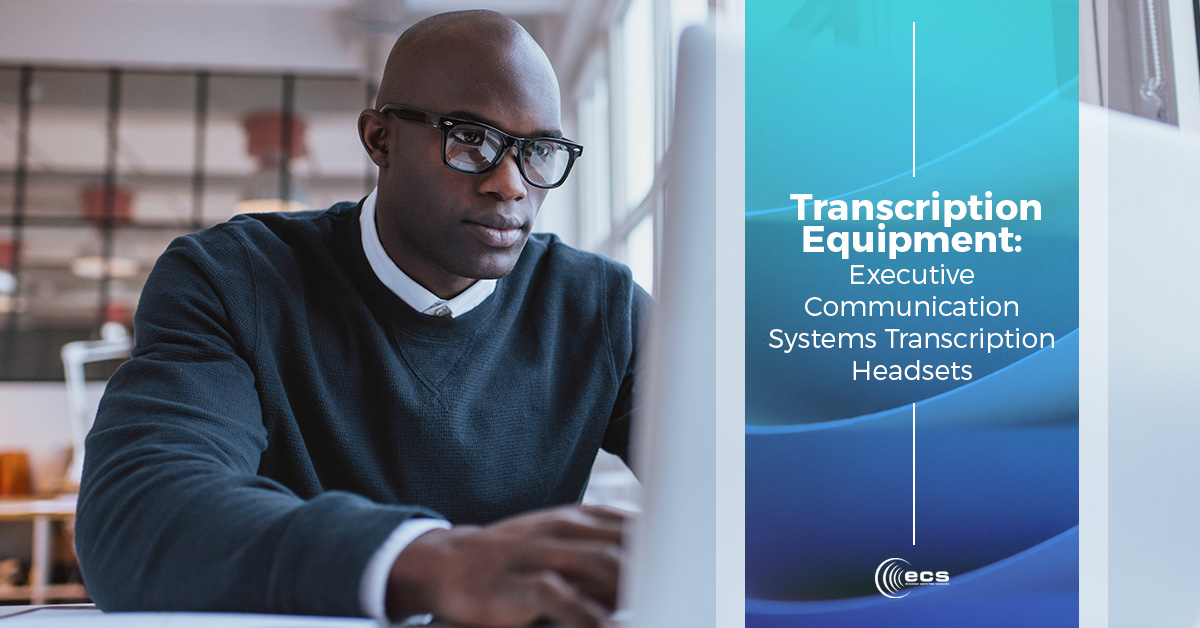 In previous blog posts, we have discussed the importance of having a quality transcription headset for your work, as well as explained the differences between overhead, under-the-chin, and in-ear headsets. Here at Executive Communication Systems, we offer a wide range of dictation and transcription equipment, from transcription software to foot pedals to a plethora of headsets fit for your transcription needs. Not only do we offer a variety of products, but we carry transcription gear from a few different brands, including Philips, Olympus, Kinesis, as well as products from ECS.
To break it down some more and to give you a better understanding of what we have to offer, we are going to be listing out a handful of transcription headsets from the ECS brand. Read along to learn more about how these quality pieces of transcription equipment can assist you in your work.

Designed and manufactured specifically for the transcribing process of dictation recordings, this under-the-chin headset from ECS will provide you with a sound quality you've never experienced before. Don't worry about this headset not fitting your ears or being uncomfortable — it was created with stereo dome shaped twin speakers and includes three extra pairs of foam ear cushions in case you lose or break the original pair. The lightweight under-the-chin style offers another layer of comfortability and flexibility. There's no need to worry about this transcription headset feeling tight or heavy on your head. Further, the 10-foot cord feature allows you to move around and stretch your arms during your transcriptions without your headset falling out. Plus, you can change the volume quickly without disrupting your transcribing process with the built-in volume control feature. When you aren't typing away, store your headset in the included carry pouch for protection.
The WordSleuth transcription earbuds were created for dictation recording purposes. With a long cord reaching 10-feet, you'll have some wiggle room as you transcribe those audio files. Don't be put off by the small 3.5mm stereo earbuds — despite their size, they provide incredible sound quality. You'll be able to hear dictation the first time and won't need to waste time by rewinding. This piece of ECS transcription equipment has a 90 degree plug, which extends the life of the cord as you use it. Stick these earbud transcription headsets in and transcribe away. Your job just became a little easier.
Fitting comfortably over your head and cushioning your ears, you will experience excellent audio quality with this overhead transcription headset from ECS. Background noise and sound distortion are common problems during the transcription flow and can be frustrating, to say the least. But with a quality overhead headset, you can focus on your work rather than the background distractions. Not only that, but there's no need to worry about this overhead headset becoming too tight or pinching your head — the headband is adjustable and has over a half inch of foam padding, as do the ear pads. Another fun feature on this piece of transcription equipment is the ergonomic accessories included, like the built-in volume control. You can now comfortably adjust the volume without interrupting your workflow with this feature. And the 10-foot cord allows you to move around comfortably throughout your workday.
Executive Communication Systems offers a variety of transcription and dictation equipment, all with the ability to increase your transcription and dictation workflow. To find more information about the transcription headsets listed above and to shop more transcription products at ECS, shop online.