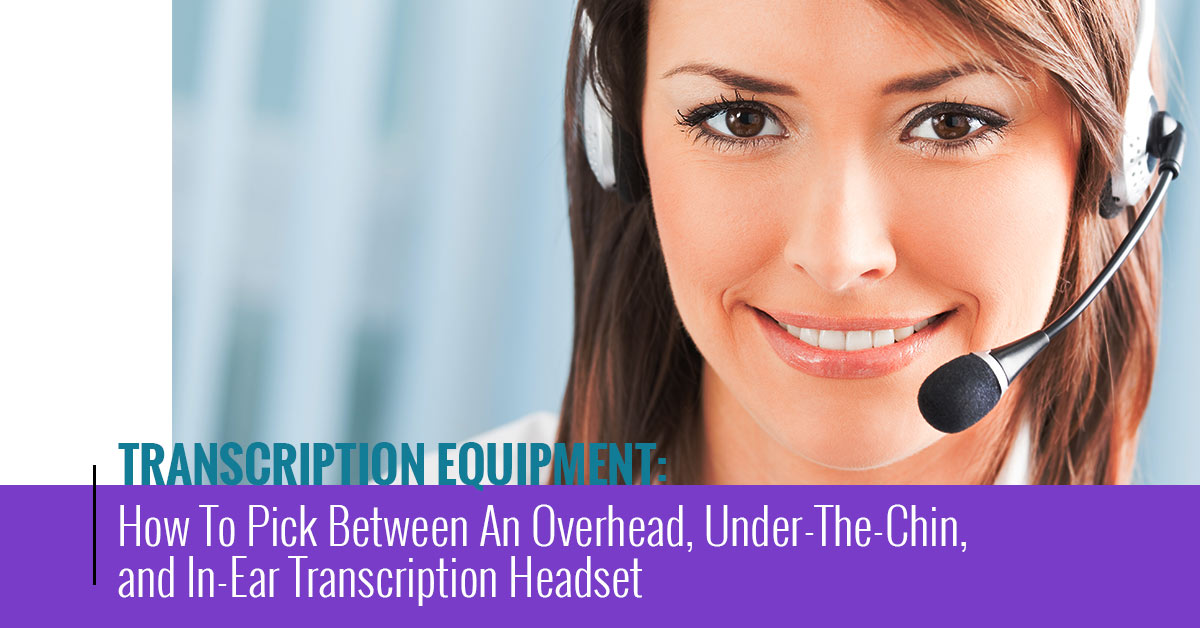 It's a no brainer that purchasing high-quality transcription equipment will improve the quality of your work. Poor quality equipment will only yield subpar work that you won't be satisfied with. That's why investing in the right transcription gear is recommended. If you're on the hunt for a new headset, you may be wondering where to start. There are a few options we offer here at Executive Communications Systems: overhead headsets, under-the-chin headsets, and in-ear earbud headsets. While you won't be sacrificing sound and audio quality for functionality with ECS products, you might not know how to pick the most comfortable or practical headset for your transcription work.
But we've got you covered. Listed below are short descriptions of each type of transcription headset we offer at Executive Communication Systems. Continue reading along to learn the benefits of each headset, and be sure to shop for yours online today at ECS.

Overhead Headsets
With an overhead headset strapped to your head, you will experience high-quality audio and a decrease in distracting background noises. Not only that, but you'll feel comfortable doing your work. Transcribing can be tedious as it is, but when you opt for comfortable and functional transcription equipment, like an overhead headset, your work will become easier and you'll feel more efficient. An overhead headset includes foam padding on the headband section, as well as padding on the ears. Shop overhead headsets today.
Under-The-Chin Headsets
Rather than wearing an overhead headset, you can use an under-the-chin headset during your transcribing. These types of headsets are incredibly comfortable and lightweight, yet still get the job done with quality and efficiency. Shop yours today.
In-Ear/Earbud Headsets
If you want to forgo a structured transcription headset, either overhead or under-the-chin, you might want to consider utilizing in-ear earbuds for your work. These headsets are significantly smaller, lighter weight, and easier to transport. Built with ergonomic design, a pair of quality earbuds will fit comfortably and securely in your ears, making your transcribing process hassle free. Shop for you transcription earbuds today.
Your days of uncomfortable and inconvenient transcribing are over. With the right transcription equipment, you will notice more efficiency and effectiveness in your work. Your equipment should enhance your overall workflow and make your process more organized.
No matter which headset you select — overhead, under-the-chin, or in-ear earbud, you'll be saying goodbye to headsets that pinch and feel tight, and saying hello to an improved transcription workflow. Shop transcription headsets today at ECS.