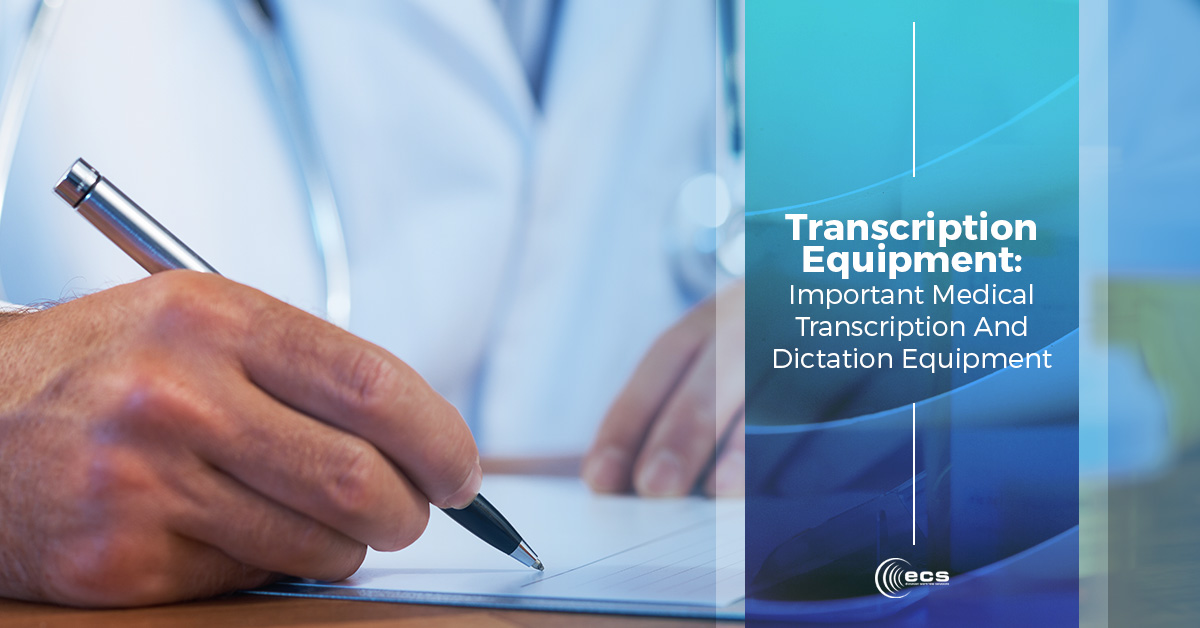 If you work in the medical field, you'll know that transcription and dictation are utilized to take notes and record important information about a patient and their needs. Medical transcribing requires quality equipment, tools, and software. After all, the quality of the work can be dependent on the quality of the equipment. In the fast paced medical environment, working efficiently and thoroughly is crucial.
Doing any type of medical transcribing is important work and not something to take lightly. In order to ensure that your work is thorough and complete, you may have to invest in higher quality dictation and transcription equipment, as well as transcription software. Here at Executive Communications Systems, we have the products and software that you need in order to solidify the quality of your work. Whether that be headsets, foot pedals, or digital portable recorders, your equipment needs will be met and exceeded when you shop with us.
Today we're going to be listing and explaining the most invaluable yet basic transcription solutions and products needed for medical transcribing. Take a look to find further information about these products. If you are in need of a transcription and dictation equipment upgrade, you can find quality products at Executive Communications Systems.
Digital Portable Recorders
Recording patient notes and other important pieces of information is essential in the medical world, and it's not something you want to mess up. You have to make sure that every piece of information necessary is gathered, recorded, and saved. Not only that, but you have to do so in an efficient manner.
With a quality digital portable recorder or dictation microphone, you can ensure that everything you need is recorded thoroughly with a high audio quality. Here at ECS, we have a variety of portable recorders and dictation microphones, from brands like Olympus, Philips, and Sony, just to name a few. If you're looking to upgrade to a new recording device for medical purposes, be sure to shop our selection of recorders and microphones today.

Foot Pedals
Foot pedals are an essential part of medical transcribing. After you record notes, from a patient or otherwise, you'll have to transcribe the audio files in an efficient manner. With the right transcription/dictation equipment, you'll be able to get the job done thoroughly in a timely manner. Foot pedals especially can assist you in the transcribing process.
Here at ECS, we have a wide selection of dictation and transcription foot pedals, including three button and four button ones. Take the time to invest in your medical transcribing with a quality dictation foot pedal, from brands like Olympus and Philips.
In order to ensure the quality of the audio file transcription, you'll need to have noise canceling headsets that you can trust so you can catch all the information in the recording.
Here at ECS, we offer a variety of headsets, including overhead, under-the-chin, and in-ear options. To find more information on the different types of transcription headsets we sell through ECS, read this past blog, and shop the products online.
Now that you know more about the medical dictation and transcription equipment we offer here at Executive Communications Systems, we hope that you decide to invest in higher quality gear. You'll ensure the efficiency and thoroughness of your medical transcription work. Shop with us today.